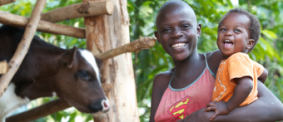 Sustainable Development Goal11: "Make cities and human settlements inclusive, safe, resilient and sustainable".
Rural-based small scale industries will make rural areas attractive and a pleasant place to live and will reduced rural-urban migration especially among the young people.
Increased access to services addressing basic human needs
We strongly believe that our investments will make substantial contribution to improving the infrastructure like roads, water and energy supply.
Fulfillment of Human Rights
Our work will give the rural communities power to lobby for better services from the government and practice their rights to participation, to work and to making decisions that affect their lives.