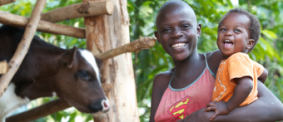 Our explicit focus is on poverty reduction with sustainable performance results.
Investment locations
All our investments are located in poor rural areas with rural communities as business owners, producers, distributors and consumers. We expect the following to happen;
Increased creativity
Increased access to financial services
Make rural areas attractive and a pleasant place to live.
Increased employment opportunities
Increased household income
Reduced number of young people migrating to towns and cities
Our approach
The value chain approach gives an assurance of business success because there will be a market for what is being produced/manufactured. The rural clusters will provide social franchising opportunities, guarantee knowledge flow and hands-on support.
Access to services addressing basic human needs
We believe that our investments will make substantial contribution to improving the infrastructure like roads, water and energy supply.
Sustainability
Instead of hand-to-mouth approach we invest in rural-based small scale industries that will continue to generate income. Managing an industry means increased access to technical know –how, business skills and management
collaborate with locally existing organizations that have the local know-how as our company agents.
Rural-Clusters
Upendo Enterprise work with rural-based clusters in order to:
create positive effect , stimulate creativity and business competitiveness
Increase knowledge flow, make support services concentrated and cost-effective
Make rural communities attractive for researchers, investors etc.
Mobile outreach events
business skills training and competitions
Innovation competitions & awards